Micks Mattress Cleaning: Elwood's Most Dedicated Mattress Cleaners
If you want to ensure a good night's sleep, then professional mattress cleaning should be in your routine. Here at Micks Mattress Cleaning, we ensure that the mattress cleaning results we produce for you are the best available in this region, we employ a wide variety of cutting-edge cleaning solutions and state-of-the-art machinery. When you choose us for mattress cleaning in Elwood, you'll be working with a team of experts with the skills and knowledge to help you no matter the circumstances.
If you suffer from allergy-like symptoms while sleeping, have Micks Mattress Cleaning disinfect your mattress for you. A clean mattress is easy to achieve with the help of our dependable mattress cleaning services in Elwood. Your sleep will improve to the point that you wake up feeling rejuvenated and ready to take on the day.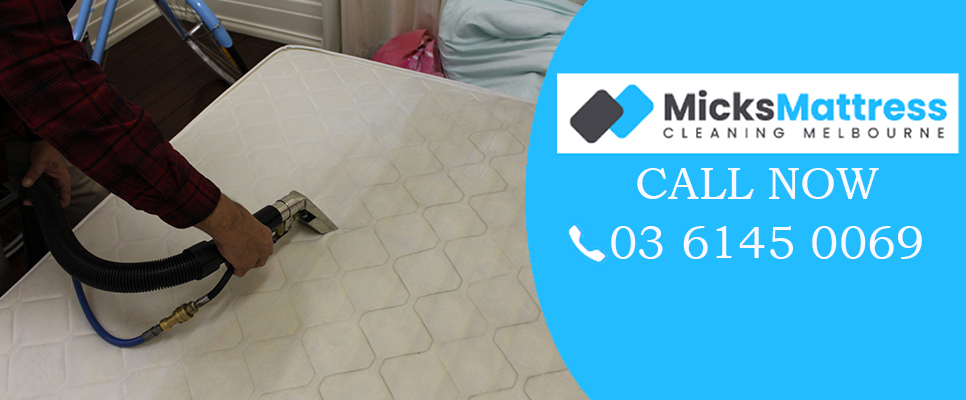 Mick's Mattress Cleaning Melbourne – Professional Mattress Cleaning Process
At Melbourne Mattress Cleaning Services, we are dedicated to providing you with a healthier and more comfortable sleep environment. Our mattress cleaning process ensures that your mattress not only looks clean but is also free from allergens, stains, and odors. Here's a step-by-step guide to our comprehensive mattress cleaning service:
Step 1: Inspection: Our trained technicians begin by inspecting your mattress to identify stains, spots, and areas of concern.
Step 2: Pre-Vacuuming: We use high-powered vacuum cleaners equipped with HEPA filters to remove surface dust, dirt, and allergens.
Step 3: Stain Pre-Treatment: Stubborn stains and spots are pre-treated with specialized stain removers tailored to the type of stains.
Step 4: Hot Water Extraction (Steam Cleaning)

1 We employ the hot water extraction method to deep clean and sanitize your mattress.
2 A mixture of hot water and a gentle cleaning solution is evenly applied to the mattress.
3 High-pressure extractors simultaneously spray the solution and vacuum it up along with dirt, stains, and allergens.
4 This process kills bacteria and dust mites, leaving your mattress clean and refreshed.

Step 5: Spot Cleaning: Any remaining stains or spots are addressed individually using specialized stain removal techniques and products.
Step 6: Deodorization: We apply a mild deodorizer or disinfectant to eliminate odors and leave your mattress smelling fresh.
Step 7: Drying: Your mattress is left to air dry with the help of industrial fans to ensure it's completely dry, preventing mold or mildew growth.
Step 8: Post-Inspection: Once your mattress is dry, our technicians conduct a final inspection to ensure it meets our high-quality standards.
Step 9: Mattress Protection: We offer an optional mattress protector application to safeguard against future stains and maintain cleanliness.
Step 10: Reassembly: If your mattress was taken apart or moved during cleaning, we reassemble it and return it to its original location.
Various Mattress Cleaning Services to Help You Have A Good Night's Sleep
Mattress Steam Cleaning
Mattress Dust Mite Treatment
Mattress Sanitisation
Mattress Anti-Allergic Treatment
Mattress Anti-Allergen Sanitisation
Mattress Mould Removal
Mattress stain removal
Mattress Antibacterial Treatment
Scotchgard Mattress Stain Protection
Mattress Dry Cleaning
Mattress Stain Removal
Mattress Anti Bed Bug & Allergy Treatment
Mattress Bed Bug Treatment
How Are We Better Than The Mattress Cleaning Competition In Elwood, Melbourne, VIC?
Elwood homeowners and businesses alike have relied on Micks Mattress Cleaning for all their mattress cleaning needs. The quality of our work reflects us. Other factors that have led to the meteoric rise of our mattress cleaning company are.
100% Fully Insured Company
Modern, portable equipment.
Dries rapidly, usually in under 2 hours
Safe cleaning products
Competitive bids, No Hidden Fees
Stain Removal, Sanitisation And Deodorization
Know About Elwood, VIC
Elwood is a popular seaside suburb located in Melbourne, Victoria, Australia. It is situated approximately 8 km southeast of Melbourne's central business district and is known for its picturesque beaches, lush parks, and vibrant cafe culture. The suburb has a population of around 15,000 people and is a highly sought-after residential area due to its close proximity to the city and its relaxed coastal lifestyle. Elwood also offers a range of recreational activities such as swimming, surfing, and boating.
Elwood Nearby Areas
Point Ormond
Point Cole
Middle Brighton Pier
Bonnet Rock
Saint Kilda Pier
Green Point
Hobsons Bay
Picnic Point
Station Pier
Point Gellibrand
Princes Pier
Yorkies Rock
Burgess Hill
Treasury Gardens
Black Rock
Half Moon Bay
Red Bluff
Coode Island
Reach Here