Micks Mattress Cleaning: Hoppers Crossing's Most Reliable Mattress Cleaners
Are you seeking to restore your mattress's suppleness? Contact us immediately! Our mattress cleaning service in Hoppers Crossing is fully equipped to handle any cleaning, repair, or restoration needs your mattress may have. Our cleaning staff is well-versed in all aspects of mattress care, including dry cleaning, restoration, and the use of the steam cleaning method. This allows us to offer solutions for all mattress kinds that are generally accepted. We offer state-of-the-art, environmentally friendly cleaning methods for your mattress during our Hoppers Crossing mattress steam cleaning service. Our mattress sanitizing services at Micks
Mattress Cleaning Hoppers Crossing
Melbourne aims to keep your bed free of dust mites, allergies, mould, and other harmful substances. The mattress sanitizing services we offer in Hoppers Crossing can be modified to meet your specific needs. Various sizes, shapes, and materials are available for mattresses. That's why we provide specialized support for whatever kind of mattress you might have. With our
Melbourne mattress cleaning services
, you can easily say goodbye to the dirt, stains, dust mites, allergens, bacteria, foul odour, and other impurities that have made their home in your mattress. Many hotel and property owners in Hoppers Crossing are grateful for our assistance. Our
Mattress Cleaning Hoppers Crossing
services guarantee the professionalism and outcomes you can count on.
The Benefits & Features of Professional Mattress Cleaning
Enhanced Sleep Quality: Say goodbye to restless nights. Our mattress cleaning service provides a cleaner sleep surface, free from allergens, dust mites, and bacteria. You'll enjoy a more comfortable and restful sleep.
Improved Health:Breathe easy and wake up feeling refreshed. Our thorough cleaning eliminates allergens and bacteria, creating a healthier sleep environment. This reduces the risk of allergies and respiratory issues, promoting your overall well-being.
Extended Mattress Lifespan:Save your hard-earned money. Regular mattress cleaning prevents premature wear and tear, delaying the need for a replacement. Your mattress will thank you.
Convenience:We work around your schedule. Our flexible booking options make it easy for you to maintain a clean and hygienic sleep space without disrupting your daily routine. No hassle, just a cleaner mattress.
Eco-Friendly Practices:We care for your well-being and the planet. Our cleaning products are environmentally friendly and biodegradable, ensuring a responsible approach to cleanliness.
Expertise:Rest easy knowing you're in capable hands. Our trained professionals have years of experience in mattress cleaning, ensuring a thorough and effective cleaning process. Your peace of mind is our priority.
Odor Removal:Enjoy the scent of freshness. Our mattress cleaning removes odors, leaving your mattress smelling clean and inviting. A more pleasant sleep environment awaits you.
Stain Removal:Preserve your mattress's beauty. Stubborn stains and spots are treated effectively, restoring the appearance and integrity of your mattress.
Customer Satisfaction:Your happiness is our goal. We go the extra mile to meet and exceed your expectations, ensuring you receive the best possible service. Your satisfaction is our success.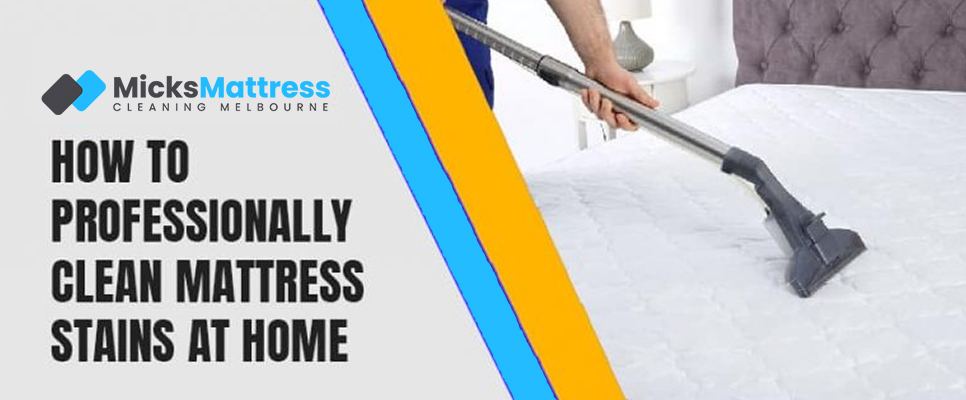 Our Mattress Cleaning Services In Hoppers Crossing :
Mattress Steam Cleanin
Mattress Dust Mite Treatment
Mattress Sanitisation
Mattress Anti-Allergic Treatment
Mattress Anti-Allergen Sanitisation
Mattress Mould Removal
Mattress stain removal
Mattress Antibacterial Treatment
Scotchgard Mattress Stain Protection
Mattress Dry Cleaning
Mattress stain removal
Mattress Anti Bed Bug & Allergy Treatment
Mattress Bed Bug Treatment
Why Choose Our Company?
Melbourne is home to Micks Mattress Cleaning, a reputable mattress cleaning company. We have complete care and restoration services for mattresses of any kind. Both homeowners and hoteliers in Hoppers Crossing value our assistance. When you use our
Mattress Cleaning Hoppers Crossing
services, your bed will be returned to its original, healthy state. We are well-known for our mattress steam cleaning in Hoppers Crossing, but our services also have the following advantages:
Professional Mattress Cleaners
Same-day/emergency mattress cleaning
Reliable results
Child/pet-friendly service
Eco-Friendly Methods
Quotes Available 24/7
Properly Trained Cleaners
Affordable Range of Costs
24/7 Availability
Know About Hoppers Crossing, VIC
Hoppers Crossing is a suburb located in the western part of Melbourne, Victoria, Australia. It is situated approximately 23 km from Melbourne's central business district. The suburb has a diverse population and offers a range of amenities, including schools, parks, shopping centers, and recreational facilities. Hoppers Crossing is well-connected to other parts of Melbourne through public transportation, making it an easily accessible location.
Hoppers Crossing Nearby Areas
Reach Here
Location:
Hoppers Crossing, Victoria 3184, Australia