Hire Affordable Mattress Cleaning Nyora Specialist
Mattresses are intended to provide comfort and a good night's sleep. However, over time, dust and bacteria accumulate on the surface, making it unhygienic and unhealthy to sleep on. If you're facing this issue, Mick's Mattress Cleaning offers top-notch mattress cleaning services in Nyora.
We have been a leader in the mattress cleaning industry for a long time. Our company provides superior quality mattress washing and sanitizing services. Using our advanced cleaning techniques, we guarantee that your mattress will be completely free of any microorganisms. This is the best way to achieve a clean and risk-free sleeping environment.
For all your mattress cleaning needs in Nyora, Mick's Mattress Cleaning is here to help. We do not claim to be the best firm, but we offer the most comprehensive method for sterilizing mattresses. We take pride in our work and strive to satisfy our customers with every cleaning we do.
If you require mattress cleaning services in Nyora, do not hesitate to contact us. Our company is available 24/7 to provide you with the services you need.
Our Comprehensive Mattress Cleaning Services in Nyora
Micks Mattress Cleaning provides comprehensive mattress cleaning services in Nyora by a team of trained professionals. Our Nyora's Mattress Services go beyond just cleaning!
Our Services
Reasons to Choose Micks Mattress Cleaning
It can be challenging to find a trustworthy company to clean your mattress. We recognize that many people require a dependable and affordable mattress cleaning service. With numerous mattress cleaners claiming to be the best in the business, it can be challenging to decide who to choose. However, at Micks Mattress Cleaning Melbourne, we don't pretend to be the best in the industry, but we do have the most effective mattress cleaning method.
Here are some reasons to choose Micks Mattress Cleaning for your mattress cleaning needs:
Guaranteed cleaning results and success
A reputable company that serves all of Melbourne
Skilled and licensed mattress cleaning technicians
The latest cleaning equipment is always available to us
24/7 mattress washing and cleaning service
We only use environmentally friendly cleaning products.
If you require professional mattress cleaning services, Micks Mattress Cleaning is the way to go. Our team is dedicated to providing you with the best service and ensuring your satisfaction.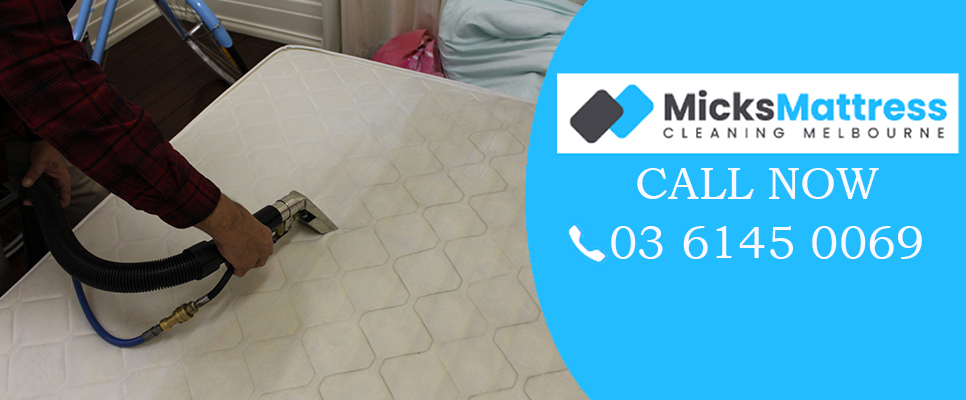 Various Mattress Cleaning Services to Help You Have A Good Night's Sleep
Mattress spot removal
Loosening mattress-in-soil
Dry vacuuming of mattresses
Clean mattresses with steam
Mattress sanitisation
Cleanup of Mattress Stains
Cleansing Pillow-Top Mattresses
Cleaning Latex Mattresses
How Are We Better Than The Mattress Cleaning Competition In Nyora, Melbourne, VIC?
Nyora homeowners and businesses alike have relied on Micks Mattress Cleaning for all their mattress cleaning needs. The quality of our work reflects us. Other factors that have led to the meteoric rise of our mattress cleaning company are.
100% Fully Insured Company
Modern, portable equipment.
Dries rapidly, usually in under 2 hours
Safe cleaning products
Competitive bids, No Hidden Fees
Stain Removal, Sanitisation And Deodorization
Know About Nyora, Melbourne, VIC
Nyora is a small town located in the South Gippsland region of Victoria, Australia. It is situated approximately 97 km southeast of Melbourne, the capital city of Victoria. The town has a population of around 700 people and is known for its scenic beauty and peaceful atmosphere. Nyora is surrounded by rolling hills, lush green pastures, and beautiful forests, making it a popular destination for nature lovers and outdoor enthusiasts.
Nyora Nearby Areas
Mosquito Hill
Soldiers Hill
Andersons Hill
Stockyard Point
Red Bluff
Pratts Hill
Plum Pudding Rock
Reach Here
Location: Nyora, Victoria 3184, Australia