Suffering from a urine-damaged mattress? You came across the right place. Having kids or pets in your house is a big deal and so are their urine stains on your couch or mattress. Urine on the mattress is a big issue that needs to be taken care of. You must get the stain out of your mattress as it gives it a bad look and is also very unhygienic. Although there are ways that people can easily apply to get the stain off their mattress. Let us now look at some ways how to remove urine spots from the mattress by yourself.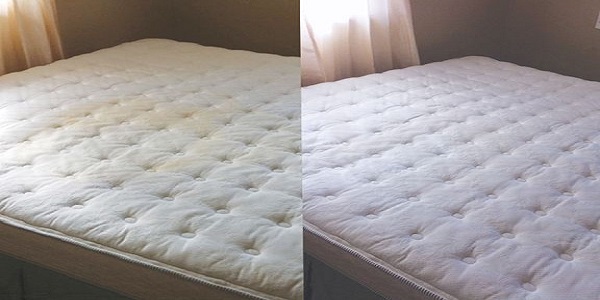 How To Remove Urine Stains Yourself?
Urine stain is not that hard to remove. There are a few things you can do for removing urine stains from your mattress. Here are a few steps given below. But first, let us see the materials needed.
Materials Needed-
Cold water
White vinegar
Plastic wrap
Spray bottle
Laundry detergents
Paper towel
Now, let us jump right away into the steps.
Step 1- Use the vinegar solution
First, you need to create a solution and mix it well in a spray bottle. Mix white vinegar, cold water, and laundry detergent in the plastic spray bottle in equal amounts. After that, you need to apply the solution to make the mattress, only on the region of the stain.
Step 2- Use plastic wrap
In this step, you need to use plastic wrap. First, you need to remove the excessive solution you put in the area. Blot it well with a paper towel. With plastic wrap, simply cover the region where the solution is applied. Cover it perfectly well to prevent any evaporation of the solution. Let it rest for 24 hours or overnight.
Step 3- Dry it up
After 24 hours, you need to open the plastic wrap. After that simply keep the mattress in the sun for a few hours. If it is a windy day, you can simply turn on fans, windows and doors to ensure proper ventilation in the room. This will dry up the spot easily.
Step 4- Repeat the process
Often you will see that the stain is still there even after one wash. Repeat the process over and over again till the stain is gone. It normally takes a few times of washing in case of an old stain on your mattress.
Step 5- Water rubbing
After making sure that the spot is cleaned, use the vinegar solution and spray it on the mattress. Then apply some water and gently rub it off. This step is to ensure that there is no dried-up residue left from the previous wash. Now you know how to remove urine spots from the mattress.
Other DIYs To Try
Here are a few DIYs you can use to ensure the removal of urine stains off the mattress. Let us view the DIYs now.
DIY 1: Baking soda
You can use baking soda to remove urine stains off a mattress. It is a very simple and easy method. Just remember to use white vinegar on that region before applying baking soda. Then you have to leave it for a few hours and remove it by vacuum. Remember to vacuum the whole mattress and not only the area covered with baking soda. This will give you impressive results.
DIY 2: Hydrogen Peroxide
Hydrogen peroxide can help you remove even the oldest urine stains off the mattress. For that, you need to make a solution. First, take a plastic spray bottle, then put 8oz hydrogen peroxide, 3 tablespoons of baking soda, and a few drops of liquid dish wash and mix it well. Then apply to the affected region on your mattress and let it rest for 5 to 10 minutes. After that, gently rub the solution away using a paper towel. You will see your desired results. For removing much older stains, you just need to repeat the process a few times over.
DIY 3: Deodorization
When there is a urine stain, there is an odour and you need to sanitize the area well. You can use baking soda solution to make your mattress free from any urine odour. Simple mix the baking soda with water and spray on the affected area. Then you need to leave the mattress for a few hours. Let it dry and let the mattress soak the solution well. After leaving it overnight, you need to vacuum and dust off the mattress well. You can also repeat this process over and over again till you get your desired result. These are the answers to your question on how to remove urine spots from the mattress.
Conclusion
Urine on mattresses is a common problem almost everyone faces, especially those who have kids and pets in their homes. It is not a huge problem but surely needs immediate attention. Cleaning the mattress by yourself is surely the most economical way to remove urine spots. Also, You can take help of our professional mattress cleaning company in Melbourne to save your time. Our expert mattress cleaners provide effective mattress cleaning at affordable prices